SR 780 (Fruitville Road) Corridor Vision Plan
District Office
L.K. Nandam, P.E.
District One Secretary
P.O. Box 1249
Bartow, FL 33831
Tel: 863-519-2300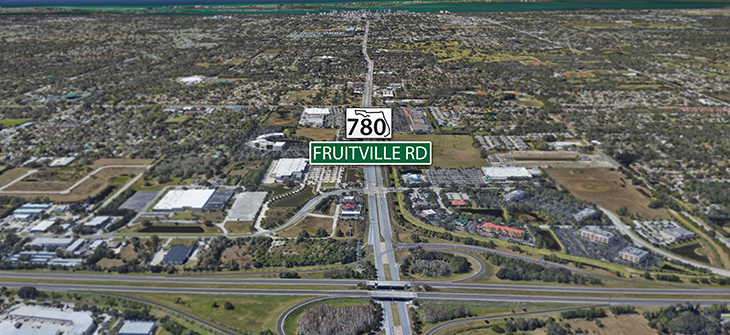 Survey #2 – The Visioning Survey

Thank you to the 213 participants we had for Survey #2! Survey #2 is now closed.
The Virtual Public Meeting was held on Thursday, June 25 at 4:30 p.m. Thank you to all who joined us! Click here to view the meeting recording and meeting materials, including the comment summary.
Survey #1 had 307 participants! Click here to view the results.
Welcome
The Florida Department of Transportation (FDOT) District One is preparing a Corridor Vision Plan for SR 780 (Fruitville Road) in Sarasota County, for a length of approximately 6 miles, US 301 to just east of I-75. This plan would evaluate the existing conditions of the corridor including traffic/safety, socioeconomic and cultural resources, and multi-modal connections and opportunities. The plan will also assess the land use adjacent to the corridor, local municipal policies (e.g. Community Redevelopment Areas), concurrent planning, and public input. The goal is to formulate a Corridor Vision Plan that will be reflective of where the community would like to be and how FDOT, as a partner, can better understand the area's needs.
Plan at a Glance
District
One (Southwest Florida)
Start Date
Early 2020
Est. Completion Date
Late 2020
Length and Limits
Approximately 6 miles, US 301 to east of I-75
FDOT Project Manager
Bessie Reina Bessie.Reina@dot.state.fl.us
(863) 519-2656
The Florida Department of Transportation may adopt this planning product into the environmental review process, pursuant to Title 23 U.S.C. § 168(d)(4), or to the state project development process. FDOT solicits public participation without regard to race, color, national origin, age, sex, religion, disability, or family status.